Tokyo, Japan: Taipei City recently launched its Convention Ambassador programme, and Kitty Wong, President of K&A International, Taiwan, was named Congress Ambassador of Taipei City.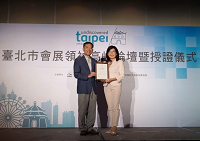 Ms. Wong was one of fifteen people named Ambassadors. The ceremony took place on August 15, 2019 at the Taipei International Convention Center, with Mayor Ko Wen-je presenting the appointments. Three of the fifteen appointees are MICE practitioners while the others are deans in the medical and scientific communities. All have an established record for winning conference bids for Taipei City. The ambassadors will serve four-year terms, during which time they will continue to promote Taipei City as a destination of choice for international events.
"I'm proud and humbled by this honour," says Wong, "and I look forward to showcasing beautiful Taipei, along with my fellow Ambassadors."
Founded in 2009, the World PCO Alliance provides leadership in meeting management through the delivery of streamlined and effective meetings around the globe. The Alliance's mandate includes the collective exchange of education, technology, and other information for the mutual benefit of the industry, and ensuring the effective global promotion of its clients' events. The organization is comprised of 19 chosen, quality PCOs in the meetings industry from around the world.
Contact: Secretary General, World PCO Alliance
Email: This email address is being protected from spambots. You need JavaScript enabled to view it.
Website: https://www.worldpco.org