Kuching, Malaysia, 30th November 2016
World PCO Alliance Press Release
World PCO Alliance Founding President Anthony Wong Wins ICCA Moises Shuster Award
Kuching, Malaysia: 30th November, 2016
Kuching, Malaysia : Anthony Wong, Group Managing Director of AOS Conventions & Events, was recently awarded the International Congress and Convention Association (ICCA) Moises Shuster Award during the 55th ICCA Congress.
Named after one of ICCA's "founding fathers," the Award is ICCA's highest honour, and is given to an individual in recognition of business success as well as for his or her leadership in the international meetings industry.
Wong founded the predecessor to AOS Conventions & Events Sdn. Bhd. (AOS) in 1976, and has been a pioneer in developing the Asian meetings market. He is past winner of the Tourism Malaysia's Gold for Best Incentive Program, and has also been awarded "Industry Person of the Year" in the Asia Pacific region by Reed Travel Exhibitions in Melbourne, Australia. He sits on the advisory board of the Malaysia Tourism Promotion Board (MTPB), Ministry of Tourism & Culture.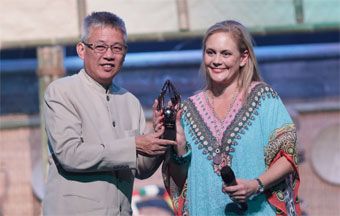 ICCA President Nina Freysen-Pretorius presents Anthony Wong with the ICCA Moises Shuster Award 2016
For Wong, his leadership is a natural extension of his passion for teaching: "My passion in mentorship has always given me the reason for teaching for over 30 years in the industry. My favourite quote is 'Don't go where the path leads, go where there is no path and leave a trail.'"
Wong was Founding President of the World PCO Alliance, and his most recent award was celebrated by Alliance members. South African member Nina Freysen-Pretorius, who is also ICCA President, presented the award: "Anthony embraced sustainability long before it became commonplace," she says. "He has championed quality standards not just in ICCA, but in many other meetings and tourism organizations he has been involved in…."
Current Alliance President Kitty Wong of K&A International, who has known Wong for over 20 years, is especially proud of his achievement: "As a fellow Asian PCO, I appreciate the tremendous contribution that Anthony has made to our industry. He is a true leader in so many ways, and the World PCO Alliance joins in celebrating its Founding President's achievement."
The Alliance has contributed significantly to ICCA: Freysen-Pretorius from South Africa recently won her 2nd term as ICCA President, and other Alliance members were visible at the ICCA Congress, including André Vietor, from Spain, who facilitated an IAPCO session.
ICCA is the global community and knowledge hub for the international association meetings industry, and represents over 1,000 member companies and organizations in over 90 countries worldwide.
The ICCA Congress, which took place November 13-16 in Kuching, Malaysia, is one of the leading events in the global conference and congress industry.
Contact: Secretariat, World PCO Alliance
Email: This email address is being protected from spambots. You need JavaScript enabled to view it.
Website: http://worldpco.org