EGA Worldwide Congresses & Events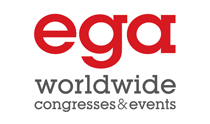 Founded in 1965 by Emma and Cristina Aru, Ega worldwide congresses & events is highly specialised in international association conferences, institutional and governmental meetings and corporate as well as public events. Today Ega is led by Claudia Maria Golinelli, full professor of event management at the University of Rome Tor Vergata, and with Gaetano Maria Dieni the third generation is already active in the family business.
Highest quality standards as IAPCO (International Association of Professional Congress Organisers) accredited PCO, member of IAPCO for 48 years. Our Head of Marketing & Communication Gaetano Maria Dieni is in the IAPCO Next Generation Committee.
43 years member of ICCA (International Congress and Convention Association)
Member of PCMA (Professional Convention Management Association)
Quality procedures certified UNI EN ISO 9001, environmental quality procedures certified UNI EN ISO 14001 and event sustainability management system certified UNI EN ISO 20121
MedTech Europe Trusted Partner: This certification acknowledges the company's commitment to comply with the MedTech Europe Code of Ethical Business Practice when organising educational medical events
Ega is standard provider for Italian CME (ID-Nr. 1406) and provider of European CME
With offices in Rome, Milan and Basel and thanks to the 55 years of history, over 1000 clients have experienced the quality, passion and professionalism of the team with more than 30 meeting experts. The different memberships, accreditations and certifications guarantee highest quality standards, reliability and efficiency. Excellent high-level contacts in the medical and pharmaceutical industry combined with the long-lasting connections to institutions, convention bureaux and conference centres contribute to the success of congresses and events organised by Ega.
Recent highlights of Ega's long-standing company history are the Worldsleep Congress 2022, G20 Summit 2021 in Rome, EXPO 2015 in Milan, the G7 Conference 2017 in Taormina, the organisation of the World Congress WAIMH 2018 in Rome, the European Congress ESERA 2019 in Bologna and the appointment as core PCO of the ESVS Congress 2022-2024.
Contact
Address
Viale Tiziano 19
Rome 00196
ITALY