"Face Off" at IT&CMAsia 2019 co-hosted by ICCA and the World PCO Alliance
OCTOBER 9, 2019
Incentive Travel & Conventions, Meetings Asia (IT&CMA) 2019, organized by TTGevents, was held in Bangkok, Thailand from September 24 to 26.
The World PCO Alliance and ICCA co-hosted a debate on September 26 as part of Association Day, entitled "Face Off: Should Convention Bureaus (CVBs) and PCOs Work Together for Greater Success?" moderated by Noor Ahmad Hamid, Regional Director, Asia Pacific, ICCA.
Representing the PCO side were Nancy Tan of Ace:Daytons Direct (Int'l), Singapore and Ikuko Nishimura from Congress Corporation, Japan. They were complemented by Tricia Loh, Penang Convention & Exhibition Bureau, Malaysia, and Amelia Roziman, Sarawak Convention Bureau, Malaysia.
IT&CMA is one of the largest MICE industry trade shows in the Asia Pacific region, and 2019 marked the 27th IT&CMA, co-held with the 22nd Corporate Travel World (CTW) Asia-Pacific, which were established in 1993 and 1998 respectively. This year, the show took place for 3 days at the Bangkok Convention Centre (BCC), drawing approx. 3,000 participants.
A passionate debate unfolded as each side argued their stances. The PCO representatives presented their views on how PCOs and CVBs can work together, including to tackle ways that the MICE industry can contribute to local communities.
Nancy Tan says, "It was another great collaboration between ICCA and the Alliance. The session, using the debate format, was well received and lively. With the role-play concept, we have managed to get the audience involved and participate in the session. The topic, though a little sensitive, was carried out well by the each of the debaters and the audience. Overall, I enjoyed the session and have learned a lot from this debate too. I look forward to further collaboration with ICCA."
"The session provided us a great opportunity to further connect with our industry," asserts Ikuko Nishimura. "All the comments from our moderator, other debaters and the audience were very informative for me, and I wish to continue this valuable relationship with them going forward."
The World PCO Alliance would like to express our gratitude to TTGevents and Noor Ahmad Hamid for this collaborative opportunity. The Alliance is committed to contributing to the further development of the meetings & events industry in the future through sharing information and experiences in these types of activities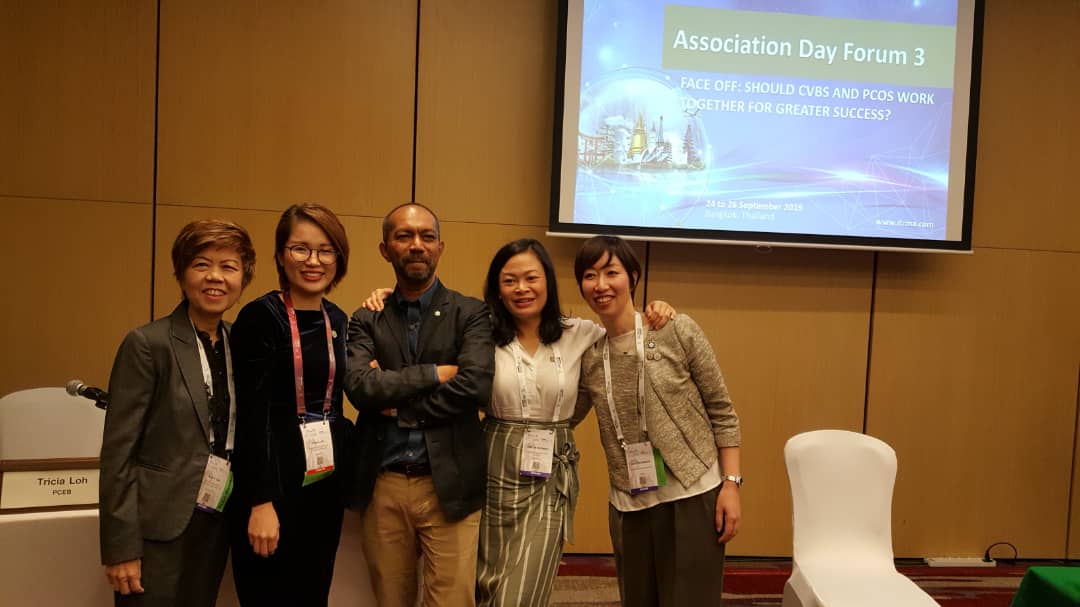 Photo: L to R: Nancy Tan, Tricia Loh, Noor Ahmad Hamid, Amelia Roziman and Ikuko Nishimura. (Image courtesy of ICCA)